Untungnya sekarang ingat ini hari Rabu. Di hari Rabu ini, seperti biasanya, saya akan berandai-andai. Seminggu ini bisa dibilang lagi pengen banget buku ini. Enggak seminggu ini sih, sejak habis TATBILB sudah pengen tapi karena lanjutannya keluar belum lama ini, ya sudah balik lagi kepengennya.
PS. I Still Love You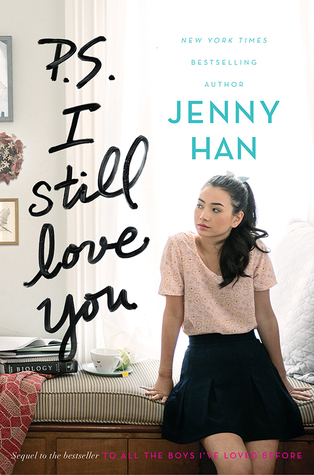 Judul: PS. I Still Love You
Penulis: Jenny Han
Penerbit: Simon & Schuster Books
Sinopsis:

Lara Jean didn't expect to really fall for Peter.
She and Peter were just pretending. Except suddenly they weren't. Now Lara Jean is more confused than ever.
When another boy from her past returns to her life, Lara Jean's feelings for him return too. Can a girl be in love with two boys at once?
In this charming and heartfelt sequel to the New York Times bestseller To All the Boys I've Loved Before, we see first love through the eyes of the unforgettable Lara Jean. Love is never easy, but maybe that's part of what makes it so amazing.
Sejak baca To All The Boys I've Loved Before sudah penasaran banget-banget sama bagaimana kelanjutan kisah Lara Jean. Dan akhir Mei kemarin akhirnya novelnya rilis. Yey!
Ya ampun serius itu si Lara naksir orang lain lagi? Peter dikemanain? Peter gimana nasibnya? Duh sumpah penasaran pengen segera bacaaaaaa.
Sayang, sampai sekarang saya belum bisa pegang fisiknya nih. Belanja novel impor masih jadi angan-angan dalam kepala saya sampai saat ini nih. Entah kapan bisa belanja novel impor tanpa perlu memikirkan beban kehidupan yang lain (baca: biaya makan, biaya peralatan mandi, biaya listrik, biaya bensin, biaya lainnya). :')
---
Yuk, ikutan bermimpi di Rabu bolong.
Silakan follow blog Books To Share – atau tambahkan di blogroll/link blogmu =)
Buat posting mengenai buku-buku (boleh lebih dari 1) yang jadi inceran kalian minggu ini, mulai dari yang bakal segera dibeli, sampai yang paling mustahil dan hanya sebatas mimpi. Oya, sertakan juga alasan kenapa buku itu masuk dalam wishlist kalian ya!
Tinggalkan link postingan Wishful Wednesday kalian di Mr. Linky (klik saja tombol Mr. Linky di bagian bawah post). Kalau mau, silakan tambahkan button Wishful Wednesday di posting kalian.
Mari saling berkunjung ke sesama blogger yang sudah ikut share wishlistnya di hari Rabu =)