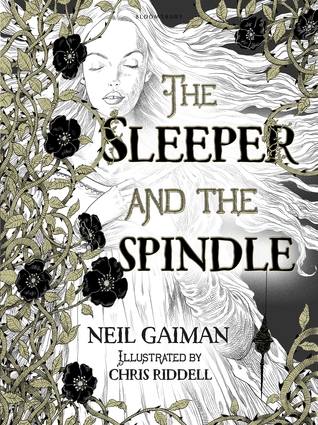 Judul: The Sleeper and The Spindle
Penulis: Neil Gaiman
Format: audiobook
Sinopsis: A thrillingly reimagined fairy tale from the truly magical combination of author Neil Gaiman and illustrator Chris Riddell – weaving together a sort-of Snow White and an almost Sleeping Beauty with a thread of dark magic, which will hold readers spellbound from start to finish.
On the eve of her wedding, a young queen sets out to rescue a princess from an enchantment. She casts aside her fine wedding clothes, takes her chain mail and her sword and follows her brave dwarf retainers into the tunnels under the mountain towards the sleeping kingdom. This queen will decide her own future – and the princess who needs rescuing is not quite what she seems. Twisting together the familiar and the new, this perfectly delicious, captivating and darkly funny tale shows its creators at the peak of their talents.
Lavishly produced, packed with glorious Chris Riddell illustrations enhanced with metallic ink, this is a spectacular and magical gift.
Pertama, karena saya baca versi audibook, saya nggak tahu gimana ilustrasinya. Kedua, saya baca ini tanpa lebih dahulu tahu bagaimana sinopsisnya. Kak Ayu merekomendasikan buku ini karena menurutnya audiobook-nya sangat bagus. Lalu, setelah beberapa minggu saya lupakan, Sabtu kemarin saya berhasil menyelesaikannya.
Tentang Audiobook–nya
Sesuai dengan rekomendasi, audiobook The Sleeper and The Spindle cakep banget. Audiobook ini lengkap dengan suara latar yang menggambarkan suasana bahkan suara kerumuman orang di kejauhan. Serius cakep banget.
Suara tokohnya juga beda-beda. Jadi begitu mendengar audiobook ini, saya serasa mendengar pembacaan naskah atau drama radio. Ada narator yang menceritakan kisah, ada orang-orang yang berbicara sebagai tokoh, dan ada musik latar. Sempurna!
Padahal biasanya saya nggak lanjut baca, eh dengar, begitu tahu naratornya laki-laki, tapi buat audiobook ini pengecualian. Memang sih masih lebih nyaman kalau naratornya perempuan, tapi narator audiobook ini suaranya nggak terlalu berat (yang sampai bikin saya berkerut bingung ngomong apa karena nadanya terlalu rendah). Lagi pula, mungkin naratornya laki-laki karena tokoh utama kita, Sang Ratu, itu perempuan, ya. Saya cuma mikir mungkin sih, kan supaya terasa beda gitu mungkin.
Terlepas dari audiobook-nya yang cakep, saya tetap penasaran sama bukunya. Habis kan bukunya ada ilustrasi ya, yah jadi saya pasti pengen lihat. Nanti mungkin kalau ada rezeki. :"
Tentang Isinya
Ceritanya sendiri, seperti cerita-cerita Neil Gaiman yang lain, beda.
Seperti yang saya bilang di awal, saya baca The Sleeper and The Spindle tanpa tahu sinopsisnya, jadi saya benar-benar nggak menyangka begitu melihat banyak persamaan cerita ini dengan dongeng Snow White dan Sleeping Beauty. Terkadang membaca buku tanpa tahu sinopsisnya itu seru lho. Kita jadi nggak terlalu berekspektasi atau berspekulasi. Mungkin ini salah satu penyebab saya menikmati banget waktu mendengarkan audiobook ini. XD
Ceritanya sendiri nggak mudah ditebak sih. Saya kaget pas menemukan twist ketika si Ratu sampai di kamar gadis yang tertidur itu. Yah, nggak bisa terlalu banyak membahas ini, nanti jadi spoiler….
Lanjut saja ke karakternya. Karakternya, hmm, banyak karakter perempuannya. Saya antara senang maupun sedih. Habis jagoan utama kita ini si Ratu yang mau menikah sebentar lagi. Orang yang diselamatkannya juga putri. Musuhnya juga penyihir wanita (iya yang bikin kerajaan sebelah itu terlelap semua).
Saya senang karena karakter wanita utama kita kuat, udah ratu terus hero pula. Tapi saya sedih juga sih habis nggak ada karakter laki-laki yang keren yang bisa buat fangirling-an gitu. Haha. XD
Secara keseluruhan, saya suka The Sleeper and The Spindle. Akhirnya juga bagus.
"There are always choices."
Selamat membaca! Selamat memilih! 😀