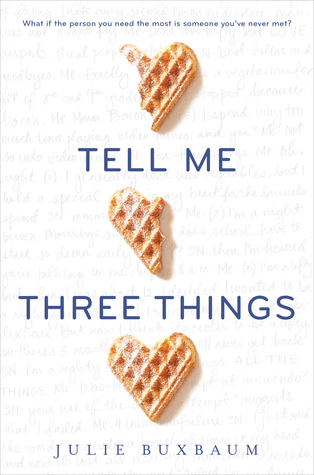 Judul: Tell Me Three Things
Penulis: Jule Buxbaum
Blurb:
Everything about Jessie is wrong. At least, that's what it feels like during her first week of junior year at her new ultra-intimidating prep school in Los Angeles. Just when she's thinking about hightailing it back to Chicago, she gets an email from a person calling themselves Somebody/Nobody (SN for short), offering to help her navigate the wilds of Wood Valley High School. Is it an elaborate hoax? Or can she rely on SN for some much-needed help?
It's been barely two years since her mother's death, and because her father eloped with a woman he met online, Jessie has been forced to move across the country to live with her stepmonster and her pretentious teenage son.
In a leap of faith—or an act of complete desperation—Jessie begins to rely on SN, and SN quickly becomes her lifeline and closest ally. Jessie can't help wanting to meet SN in person. But are some mysteries better left unsolved?
Review
Saya membaca novel ini dalam bahasa Inggris, seharusnya saya pun menuliskan review-nya dalam bahasa Inggris. Sayangnya, saya nggak PD sama grammar saya sekarang hiks. I have to study once more. 😦
Jadi, saya akan mengulasnya dalam bahasa Indonesia saja.
Novel ini bercerita tentang Jessie yang mendadak harus pindah karena ayahnya menikah dengan seorang wanita, yang dia tidak kenal sama sekali. Hidup Jessie langsung berubah. Dia tinggal di rumah yang besar. Dia bersekolah di sekolah anak-anak orang kaya. Dan dia harus meninggalkan teman-temannya menuju dunia yang tidak dia kenal.
Di rumah barunya, Jessie harus berhadapan dengan saudara tiri yang tidak menyambutnya dengan baik. Di sekolahnya apalagi. Tidak ada yang dia kenal sama sekali. Sampai seorang berinisial SN mengiriminya pesan-pesan. Pesan-pesan itu membantu Jessie 'selamat' di dunianya yang baru.
Harus saya katakan bahwa penulis punya cara yang ajaib membuat karakter-karakternya. Sebut saja Theo, dia saudara tiri Jessie. Pertama kali muncul, saya sebal setengah mati sama tingkahnya yang seperti tuan muda (well, dia memang tuan muda sih haha). Namun, lama-lama saya mulai memahaminya. Saya tahu ceritanya dan saya dibuat jatuh cinta sama cara dia menghadapi Jessie. (Yah, kedua orang tua mereka menikah tiba-tiba tanpa ada tanda-tanda sih, jadi pasti keduanya sama-sama bingung, canggung, dan sebal.)
Selain itu, karakter SN pun sulit sekali ditebak. Penulis berhasil menghadirkan misteri SN yang menarik. Sampai akhir pun saya nggak bisa menebak siapa si SN ini. Good job!
Cerita cintanya sendiri manis. Saya suka interaksi Jessie dan SN. Mereka manis. XD Menjelang akhir ada drama, yang yah not bad-lah. Cuma saya berharap latar karakter lain lebih dieksplorasi. Penulis menceritakan terlalu banyak soal Jessie (dia memang tokoh utama sih, tapi pembaca kan jadi dibuat penasaran sama kandidat-kandidat SN yang diberikan dalam buku ini, ya).
Secara keseluruhan, novel ini asyik dibaca. Manis, sekaligus dalam.
Selamat membaca!